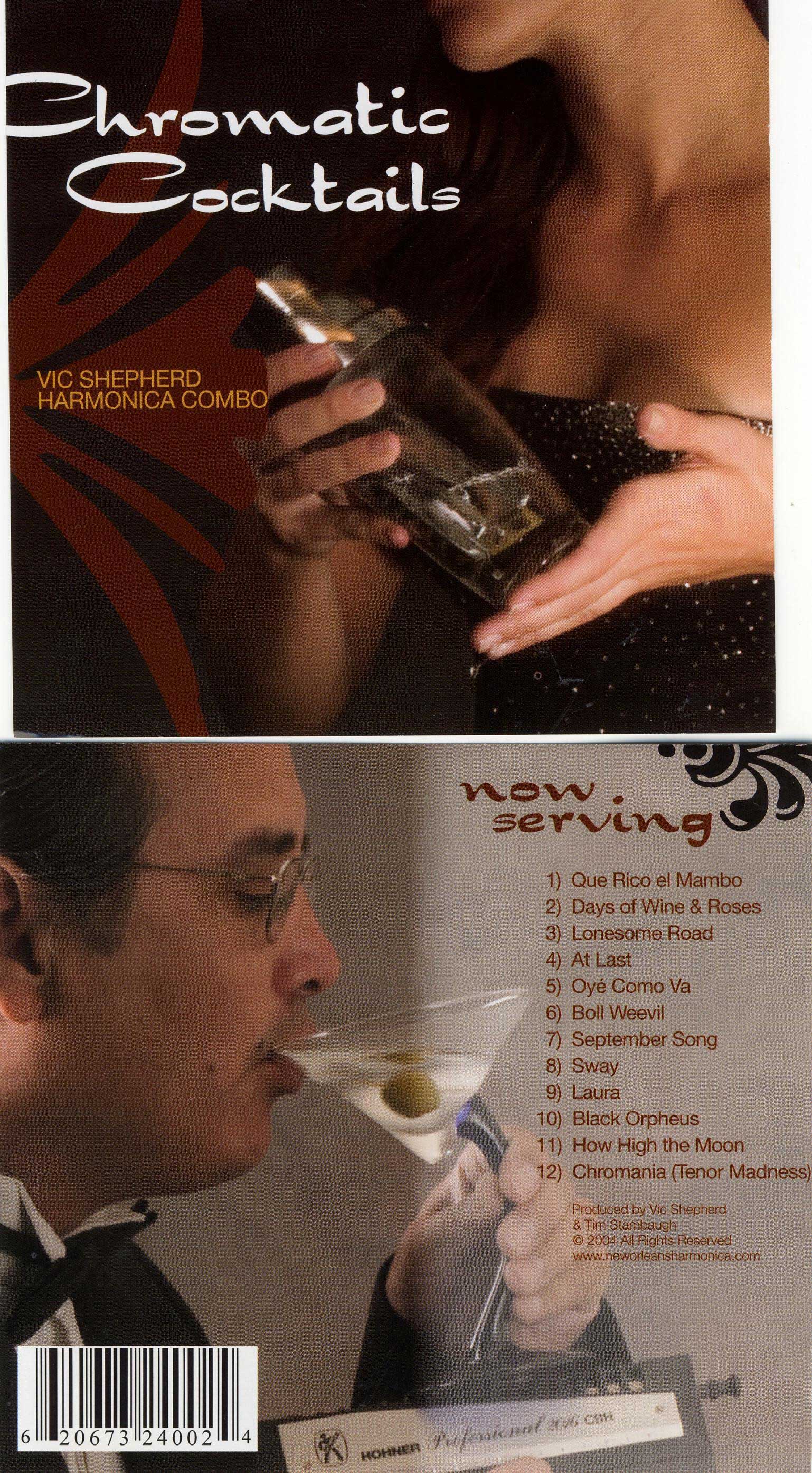 CHROMATIC COCKTAILS
New Orleans Blues
Chromatic harmonica, guitar, acoustic bass, drums, background vocals
Chromatic harmonica is played by New Orleanian Vic Shepherd
12 Songs (45:39)
Label: Vic Shepherd
Year: 2004
.

.
---
Prezzo: 12,99 Euro IVA inclusa
Rate: 12.99 Euro TAV included
Shipping charge excluded
For Italian customers
N.B. Al momento dell'acquisto i clienti italiani devono indicare il CODICE FISCALE per la fattura, scrivendolo nelle istruzioni al venditore o inviandolo direttamente a eucled@tin.it
---
Vuoi pagare contrassegno? clicca su FAQ
Do you prefer cash on delivery (COD)?
REVIEW OF THIS CD AS IT APPEARED IN OFFBEAT (N.O. MUSIC MAGAZINE)
From the regional relevance of "Boll Weevil" to the over-covered "Oye Como Va," Shepherd interprets these songs and other favorite jazz standards adding the unique sound of the chromatic harmonica, making this a very original sounding album. Shepherd enlists a completely different band to back him on his latest collection. While Shepherd's harmonica certainly steals the show here, Paul Turnipseed and Larry Scala's guitar playing is something worth noting. In fact, the entire band knows when to swing and when to sit back and let Shepherd's harmonica do the talking. Everyone gets a chance to show off their stuff, and all of the solos are tasteful and never overbearing. Not only is Shepherd an excellent harp player, but for all of you who like words with their jazz his voice is ever so soothing on the few songs he sings . So, whether you are in the mood to sway, snap or straight up swing Chromatic Cocktails will satisfy that urge in a way few other jazz albums can.
Listen to samples: